When you first think of a private yacht charter what springs to mind? The scene which plays out in my head is that of glamorous celebrities sunning themselves on deck. Watching their friends frolicking in the crystal blue waters below, moored somewhere uber Instagrammable. And while that may be the case for some, after looking into family sailing holidays for ourselves, I was pleasantly surprised to discover that, while the image of a sailing holiday is one of privilege and for the well-heeled, family yacht holidays are actually quite affordable. You don't even have to be famous or have any experience in sailing.
SAILING HOLIDAYS FOR FAMILIES
In fact, the more I looked into a family sailing holiday, including those offered by SeaYou – a Greek sailing holiday company who arrange family sailing holidays across the Aegean Sea – the more it appeals. After all, being able to explore numerous destinations in one trip, as well as from the vantage point of the water rather than on land makes it even more special. And while cruising has never attracted us as a family due to the crowds, I can see the huge benefits of going on a family sailing holiday with your own skipper and your own space – and even with wi-fi onboard! But if that's not enough to convince you here are some other pretty amazing reasons why you should consider a family sailing holiday.
REASONS TO CHOOSE FAMILY SAILING HOLIDAYS
1. IT'S PRIVATE
Having your own yacht for just your family gives you the ultimate privacy. No having to share your meal times with other people. Put towels down on a sun lounger before the best spots go or having to be sociable when you're not in the mood! Meanwhile, if you're up for some livelier moments, the boat only has to moor close to town for you to get in on the action. And once you back onboard, you can head to more secluded surroundings for a peaceful interlude or overnight. What a blissful way to relax with your family.
2. YOU DON'T NEED ANY SAILING EXPERIENCE
You can do as much or as little as you want. Sailing experience isn't necessary because you'll have your own skipper. He will only be too happy to let the kids or you have a go at steering the boat, or letting you just lie back, relax and take in all the many magnificent views you'll be seeing. The skipper will be staying onboard with you for the whole sailing holiday. So you'll benefit from their huge knowledge of the region you're exploring, and discover their secret hideaways and hotspots.
3. YOU'LL HAVE FLEXIBILITY
Being able to explore at your own pace, eat somewhere different every day and in different towns without any stress or logistical problems, is pretty astounding. One minute you could be diving off the boat and snorkelling in the warm sparkling sea, and then having lunch at a local taverna. Exploring idyllic coves and bays, and later, taking the kids to visit a castle. With only short sailing times daily – around four hours – there really is plenty for families to do. However the bonus is, you can do as little or as much as you want on family sailing holidays.
4. THERE ARE SO MANY DESTINATIONS TO CHOOSE FROM…
Of course, the world is your oyster when it comes to family sailing holidays. But if you're travelling with a young family then there's really no need to fly to the other side of the globe when there are so many amazing sailing destinations right on our doorstep. Choose sailing holidays in Greece, Aegean sea is filled with wondrous destinations for a sailing trip. However, for those in the know, Halkidiki, Sporades are the perfect destination for a sailing holiday. The North Aegen which offers a great mix of cosmopolitan towns and quiet bays as well as perfect sailing conditions for young families.
5. KIDS LEARN NEW SKILLS AND RESPONSIBILITIES
Family sailing holidays are so different from the norm of hotels or self-catering. After that the kids will be able to learn new skills onboard the yacht, with safety being paramount. Instilling a sense of responsibility will give kids the chance to shine as well and a sense of achievement.  Meanwhile, as a family, you can all muck in to keep what is essentially your floating villa in tip-top shape. A great way for everyone to bond and share sailing duties.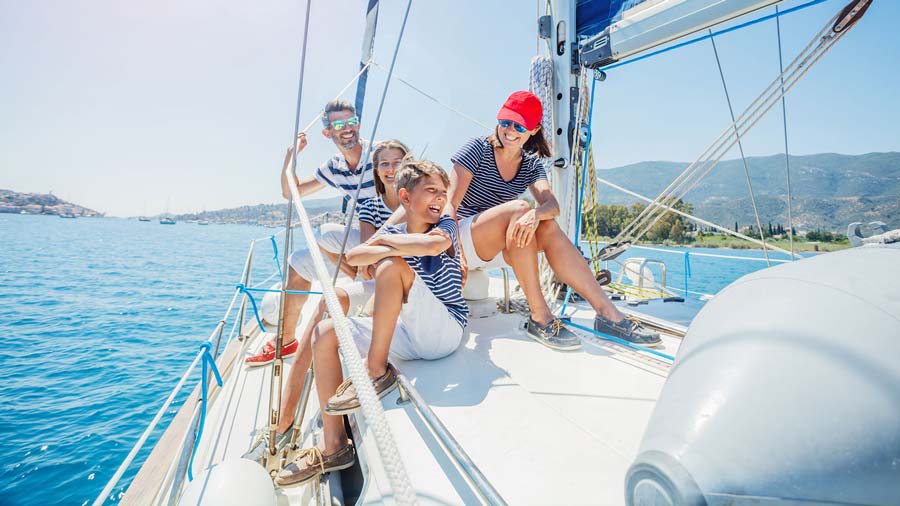 6. A SAILING HOLIDAY IS SUITABLE FOR TODDLERS
Believe it or not, young kids and toddlers are most welcome on board family sailing holidays. My initial fear was that of safety and whether it would be nigh on impossible to keep Peanut from going overboard. However, all yachts for young families will be kitted out with child safety equipment. Such as child safety net around the boat, child lifejacket and harnesses, whereby you can strap car seats and boosters into the cockpit. Sailing conditions are an important factor too, which is why choosing a destination with light winds and calm seas such as Halkidiki and Sporades will make all the difference.
7. ADULTS CAN RELAX WITH PEACE OF MIND
Seriously! I know – you're probably wondering how on earth it is possible to have a truly relaxing family sailing holiday when you have to keep an eye on your little ones constantly. Well, that's the beauty of it – because you can get a nanny to come onboard, too. SeaYou offer Family Packages tailored to each family's individual needs during the trip. Be it babysitting at night if you want a romantic meal on shore, or during the day so you can have some r&r, the package is completely flexible.
8. IT'S NOT AS PRICEY AS YOU FIRST IMAGINE…
The thought of having your own private yacht charter with a skipper for a week may send you into a panic. But family sailing holidays really aren't as expensive as you first imagine. The cost for one week with a skipper is around the same as a week in a four-to-five-star hotel for a family of four – if not, a lot cheaper depending on what hotel you're choosing (I checked). And although you do have to factor in flights, food, fuel and a few extras, the fact is you're getting your own private sailing villa which will be venturing to some destinations that you wouldn't be able to go to on land. It would also be such a 'different' type of holiday, so full of amazing adventures every day, that I think we'd love it very much.
Have I convinced you that a family sailing holiday is worth considering for your next trip? I've certainly convinced myself…